N-Power: Volunteers Accuse Ministry of Selective Payment as 98 Percent Awaits April Payment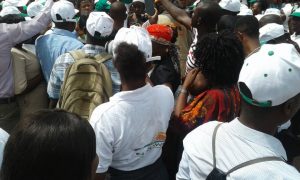 The long awaited April stipend has been paid, the payment started on Saturday at around 4pm when jubilation rocks Facebook and other social media platforms. The weekend payment was made in fulfillment of the minister's promised, when she assured beneficiaries of payment early in the week.
But surprisingly some beneficiaries have accused the npower scheme of selective payment as about 98 percent of the beneficiaries have not receivedtheir payment.
The allegation came hours later when the payment commenced and most of the beneficiaries especially batch B beneficiaries have not received payment as claimed by the scheme that payment has commenced.
This was contained in a post released by the verified Facebook page of the Npower Scheme.
See posts below:

Meanwhile, the npower Facebook handlers has again assured beneficiaries that payment is still ongoing, therefore there is no cause for alarm as all beneficiaries has been processed for payment.
If you are yet to receive your March /April stipend, please exercise patience as you wait.