I thank Batch A&B for their services, they have been worthy ambassador of NSIP – Sadiya Farouq's farewell message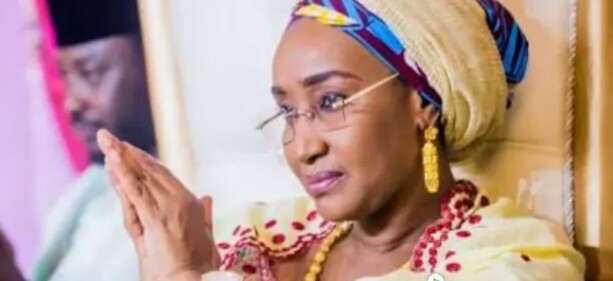 When the shocking disclosure was made unexpectedly on Friday 19th June, 2020 by the Honourable Minister of the Federal Ministry of Humanitarian Affairs, Disaster Management and Social Development, Sadiya Umar Farouq, to the general public about the ministry's plan to disengage or exit all the Batch A and B Npower beneficiaries from Npower Programme, and be transitioned to entrepreneurship scheme, by the end of June and July respectively, many people called it "fake news".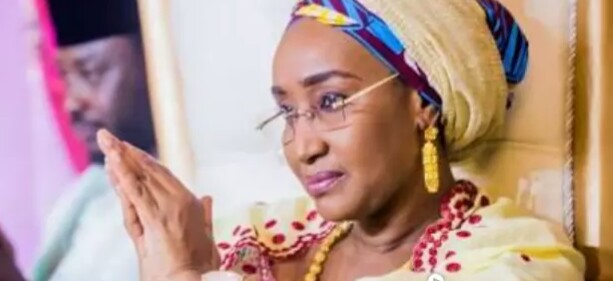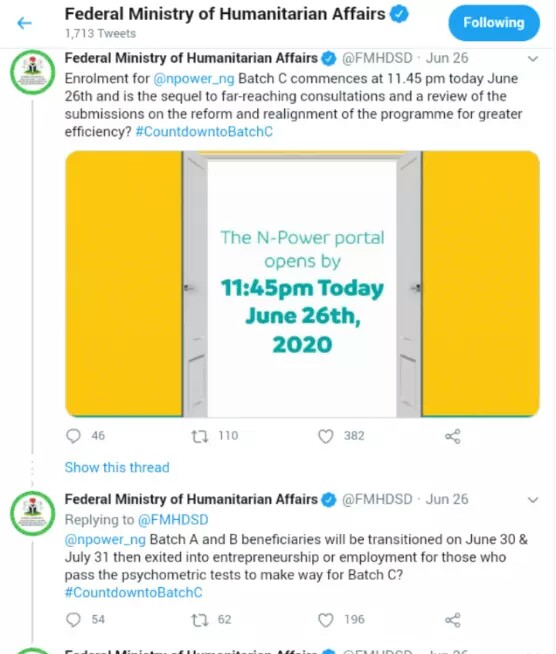 How come? It is not possible. Why would they do such a thing? If it is true that is unfair to the human rights of the concerned Nigerian youths as citizens.
President Muhammadu Buhari will never allow such, because this is his programme. That means Npower programme is just designed to use and dump industrious Nigerian youths. It would lose its objective of creating it in the first place.
You could recall that many online and offline news agencies in Nigeria have been making such claims on several occasions, but at the end of the day Npower Management via their official social media platforms would debunk the disengagement news as fake and untrue.
Even among the so-called batch A and B Npower volunteers, as well as those who have relatives, friends and family members in the programme found it difficult to believe until it was reaffirmed on the Npower official social media platforms.
Although, the ministry has said the outgoing Npower beneficiaries will not be thrown out to the streets, but be transitioning to Government Entrepreneurship Scheme and engaging private sector bodies to absorb some of the volunteers after psychometric assessment test.
Honourable Minister Sadiya in her "farewell message" to all the outgoing Npower beneficiaries posted on the 28th of June 2020 on her personal twitter account, has recognised them as "worthy ambassadors" of National Social Investment Programmes (NSIPs).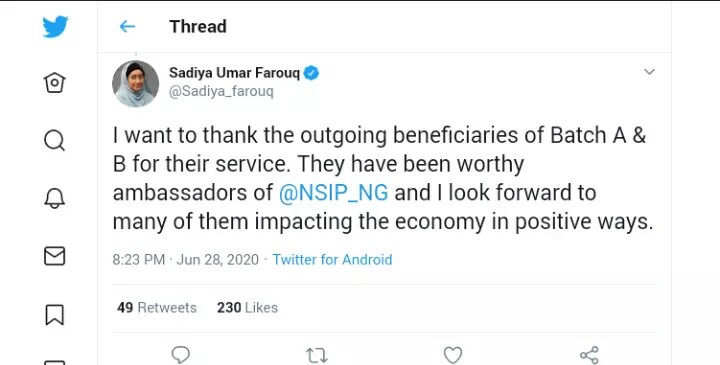 The tweet is written thus:
I want to thank the outgoing beneficiaries of Batch A & B for their service. They have been worthy ambassadors of @NSIP_NG and I look forward to many of them impacting the economy in positive ways.
SEE THE FAREWELL MESSAGE LINK:
https://mobile.twitter.com/Sadiya_farouq/status/1277321710602256386?p=v
Though the honourable Minister's farewell message is very encouraging, there is need for the ministry to resolve backlogs and come out explicitly on what the transition plan entails and stop putting beneficiaries in the dark.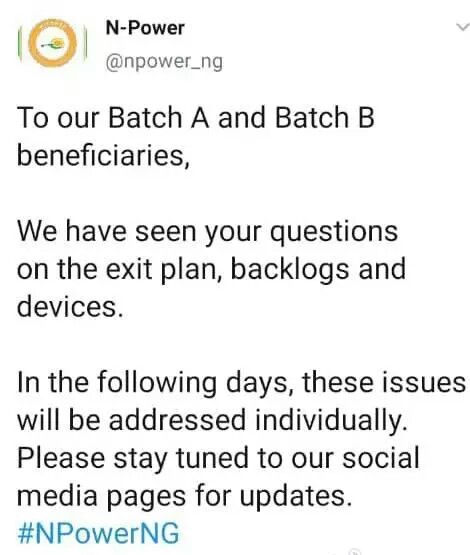 She is expecting the batch A and B transitioning Npower beneficiaries to do more so as to remain the hope and future of Nigeria.
Statistically, she made it known that "109,823" out of the 500,000 batch A and B Npower beneficiaries enrolled in 2016 and 2017 respectively, have started their own businesses in their communities underlining the impact and imperative the Npower Programme has created so far in reducing poverty, and address the challenge of youth unemployment through the provision of entrepreneurship opportunities.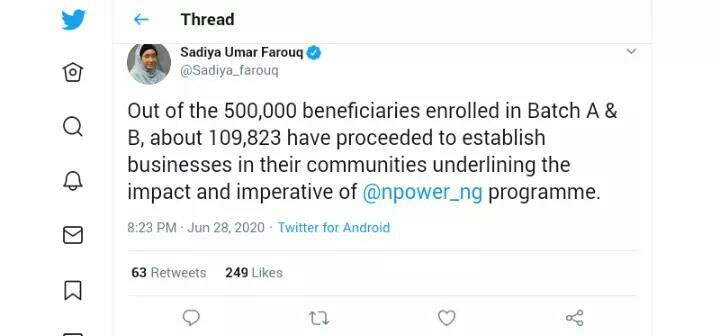 In conclusion, it is very imperative to see this farewell message as a source of inspiration for the hurdles ahead. After all, mothing lasts forever.
Let me also use this medium to wish the outgoing volunteering best of luck in their future endeavors.
For more update like this, kindly join the Npower 2020/2021 WhatsApp Group here for Npower news and events as it breaks.