SCAM ALERT! AssistNigeria.Org Is FAKE, Kindly Disregard – FG
The Federal Ministry of Humanitarian Affairs, Disaster Management and Social Development has uncovered another fake portal using the name and logo of the ministry with the aim of defrauding job-seeking youths.
The fake application portal with the domain name assistnigeria.org claimed to assist small business owners with funds.
The ministry in a tweet warns Nigerians that assistnigeria.org is fake and isn't affiliated to the ministry.
A check on the portal shows that an online application form was uploaded for applicants to fill in their details including their full names, phone numbers passport photo, and bank account details.
The 2-page website has no contact details not about us page, however, it uses the logo of the ministry of humanitarian affairs.
Using logo of another body or person is one of the ploys used by online scammers known as Yahoo Boys in Nigeria.
What assistnigeria.org promised
The fake portal promised businesses and students financial assistance to boost their businesses so as to mitigate the impact of the coronavirus pandemic.
Why you should be careful
The brains behind the fake application portal are strategic. They launched the portal at a time millions of Nigerians are in dire need of financial assistance.
You are advised to steer clear of the portal and the ministry has distanced itself from it.
What they are capable of doing
If you submitted your details on the portal, the next thing is to use your details to trick/ lure you into giving out your financial details. The target is your bank account or your money.
They might also call you, trick you to submit disclose details of your Debit card, your BVN which they can use to perform financial transactions without your consent.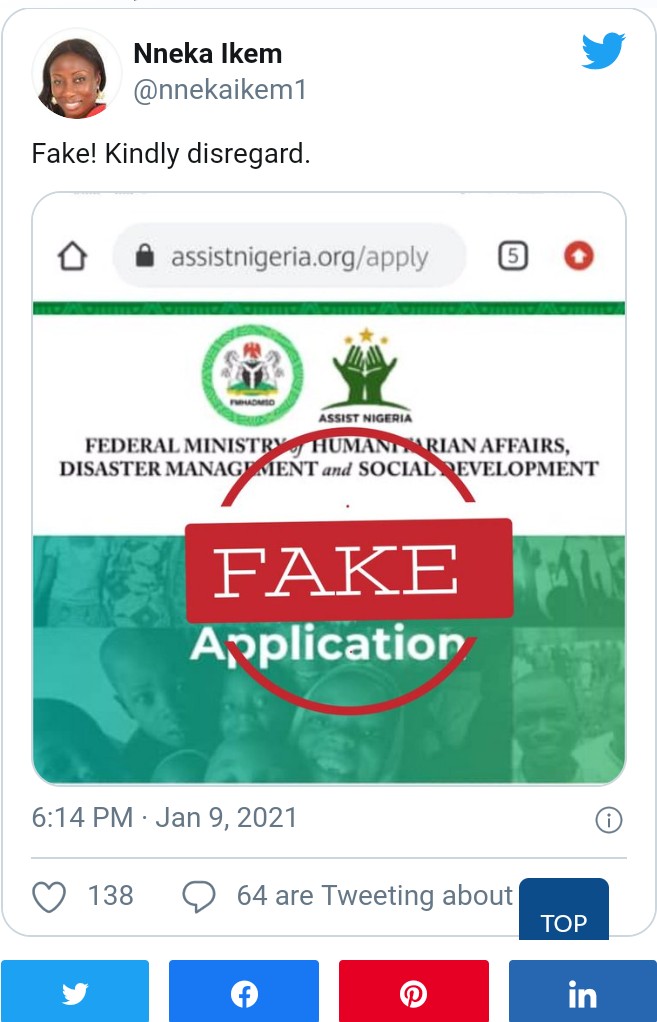 The Special Assistant, Media & Publicity to the Hon Minister of Humanitarian Affairs, Disaster Management and Social Development, Mrs Nneka Nkem described the portal as "FAKE! Kindly disregard".