Npower releases new bio-data update form for all beneficiaries | Urgent!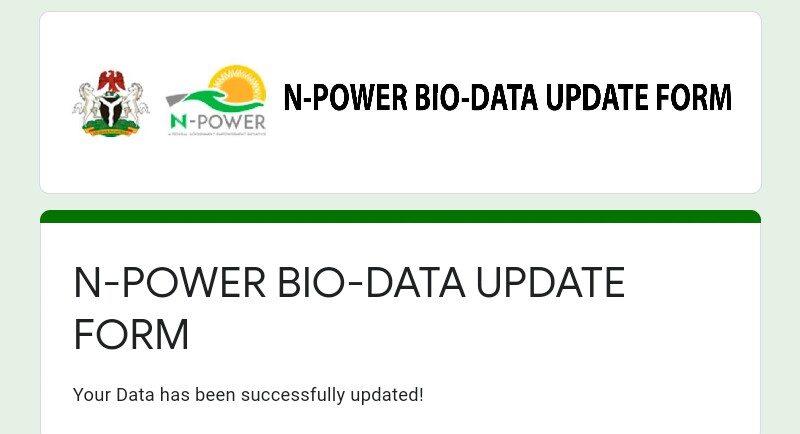 This is to inform Batch A and B N-Power Beneficiaries that they are to update their N-Power bio-data information as a matter of urgency.
Please kindly click the link below and follow the instructions;
https://docs.google.com/forms/d/e/1FAIpQLSfyijv-mDgHVDYAeoY_0bWatjYQHdDnxXpS5D9OOBLFBvEdAA/viewform?usp=sf_link
Recall that in recent weeks several data update forms were purportedly released by states focal persons for data capture of Npower beneficiaries in their respective states. The general opinion was that the Federal government through the Ministry of Humanitarian Affairs and Disaster Management are making moves to provide permanent employment opportunities to the teeming Npower beneficiaries, to ensure they are not thrown back into the streets.
However, the Ministry has debunked the claims through its social media channel that it mandated states focal persons to carry out these exercises, thereby throwing many in a state of anxiety and uncertainty.
Regardless of the hanky panky game, we want to use this medium to encourage every beneficiary to ensure they partake in every of these exercise that concerns them so as not to be caught unawares. However, do ensure whatever forms you're filling does not include your sensitive and personal information that may make you a easy victim by fraudsters. Hence the need for scrutiny before filling out your details.
Please kindly share the link widely for all beneficiary to partake. Best of luck in all your endeavors.