Npower Enumerators Will Be Blacklisted For Providing False Farmers' Information – FMARD
The first set of successful Npower Beneficiaries who have been onboarded by FMARD has started enumerating farmers/farms in their community since Monday. Another set of successful applicant will be released very soon.
For some that have registered but are yet to receive the test link, kindly note that another batch of test link will be sent out very soon. Kindly make sure you have strong internet connection to write the 40 minutes test.
Each enumerator is to provide the information of the farmers or farms they register daily day FMARD profile. The payment is N300 on one successfully provided information of farmer or farm.
FMARD however sent notice to all enumerators via twitter over the development that some enumerators have started manipulating data and providing false Farmers or farms information in order to increase their pay.
Below is the tweet by FMARD PACE today:
Dear Enumerator,
We've noticed that some enumerators have been providing false farmers/farms information.
These enumerators will be contacted and blacklisted, all their submissions expunged from our database.
We strongly advise all enumerators to desist from such sharp practices.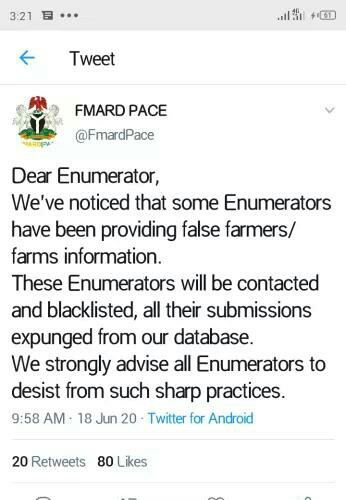 Please dear enumerators, kindly ensure to provide true farmer's information to avoid being backlisted from the programme. Thank you.