JUST IN: 36 States Npower Beneficiaries Indicate Interest To Lockdown Abuja On 9th July
You recall that we reported this morning on how Abuja branch of Npower beneficiaries batches A and B have planned a "Mother Of All Protest" over their sudden disengagement from the programme without fulfilment of the so much awaited enhancement scheme.
In a solidarity of the planned protest, Lagos branch of the Npower along 35 states are also to join the protest in the nation capital Abuja on Thursday 9th July, 2020.
See their solidarity statements below: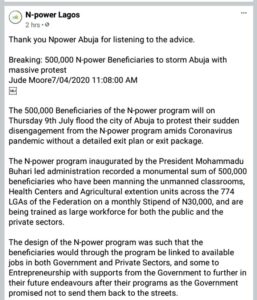 Thank you Npower Abuja for listening to the advice.
The 500,000 Beneficiaries of the N-power program will on Thursday 9th July flood the city of Abuja to protest their sudden disengagement from the N-power program amids Coronavirus pandemic without a detailed exit plan or exit package.
The N-power program inaugurated by the President Mohammadu Buhari led administration recorded a monumental sum of 500,000 beneficiaries who have been manning the unmanned classrooms, Health Centers and Agricultural extention units across the 774 LGAs of the Federation on a monthly Stipend of N30,000, and are being trained as large workforce for both the public and the private sectors.
The design of the N-power program was such that the beneficiaries would through the program be linked to available jobs in both Government and Private Sectors, and some to Entrepreneurship with supports from the Government to further in their future endeavours after their programs as the Government promised not to send them back to the streets.
In what appears penutive, the volunteers were suddenly disengaged by the Federal Ministry of Humanitarian Affairs, Disaster Management and Social Development without a laid down exit plan or exit package, the reason they have spent years in the program as the Federal Government promised not to terminate their engagement without a concrete exit plan so as to reduce youth unemployment and support the plan of our dear President in lifting 1 million Nigerians out of poverty.
The N-power beneficiary during the campaign for the 2019 General election recieved a promise from the Federal Government that their PVCs were their tickets to permanent employment, demanding that they re-elect President Mohammadu Buhari to gain sustainability of their program and perfection of the purpose of the program.
Among the agitation of the trained N-power Volunteers is for the Federal Government to offer them permanent employment as citizens of their country or provide them with substantial exit package as they can not go hungry with their wives and Children especially now that COVID-19 has dealt with many economies of the world, job market saturated and opportunities too narrowed.
For more update and breaking news like this on Npower and other government social intervention programs, kindly join the Npower 2020/2021 WhatsApp Group here.