FMARD Calls For NPower Validation For Agriculture Asset Survey
There is an email circulating that the Federal Ministry of Agriculture and Rural development(FMARD) is trying to use NPower Agro Volunteers as enumerators to conduct a nationwide survey.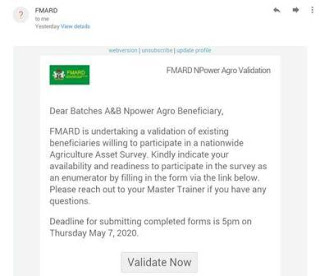 In an email sent to some NPower Agro volunteers tittled: "FMARD NPower Agro Validation" which read:
Dear batches A & B NPower Agro Beneficiaries
FMARD is undertaking a validation of existing Agriculture Asset Survey. Kindly indicate your availabiolity and readiness to participate in the survey as an enumerator by filling in the form via the link below.
Please reach out to your master trainer if you have any question.
Deadline for submitting completed forms is 5pm on Thursday May 7th 2020.
The authenticity of the email is yet to be confirm! We heard Kaduna NPower Agro volunteers are being call to fill forms. If you get the email and you are not sure, you can call your PPA supervisor before participating in the survey.