Woman in The "Fake" Miracle Scandal finally found (Photos)
The woman with a condition in one on her right hand who got healed atleast 5 times by different Pastors have been found.
President Guild Of Professional Bloggers Of Nigeria (GPBN), Chris Kehinde Nwadu, was able to trace the woman who went viral after at least 5 videos shows her being healed by different pastors on different healing and deliverance.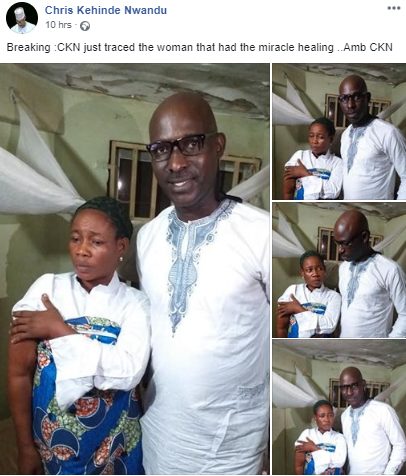 Nwadu shared pictures with her on his social media page. See photos below.
After atleast 5 videos showing the woman being healed by different Pastors , health enthusiasts began investigation into her medical condition and identified it as as Ehlers–Danlos syndromes (EDS), a group of genetic connective tissue disorders with symptoms which may include loose joints, joint pain, stretchy skin, and abnormal scar formation.
There's no cure for EDS, but the symptoms can often be treated and managed. While some forms of EDS result in a normal life expectancy, those that affect blood vessels generally decrease life expectancy.
Nigerians have condemned the woman and the pastors who have now been branded as fake and fraudulent for faking miracles. They claim the woman is paid to stage the miracles by the pastors trying to deceive miracle seeking Christians and to increase the numbers in their congregation.