We Will Immediately Embark On Payment Of Volunteers Monthly Stipend – Minister
The minister of Humanitarian Affairs, Disaster Management and Social Development has declared readiness to pay the March Stipend of N-power Volunteers and also embark on other social programmes to cushion the effect of the CoV-19 pandemic. This was made known today by the minister of Humanitarian Affairs, Disaster management and social Development, Sadiya Umar Farouk in Abuja.
This negates people's opinion on whether the federal government would be able to pay the march stipend amidst the pandemic of the COVID-19.
In her statement,the minister stated thus:
1) We will immediately embark on the payment of volunteers monthly stipend
2) We will provide vouchers and rations to families of children enrolled in the Home-Grown School feeding program to access Nutrient- rich food provision.
3)We will place a three months moratorium for all Trader moni,Market moni and farmer loan moni.
See the circular issued below: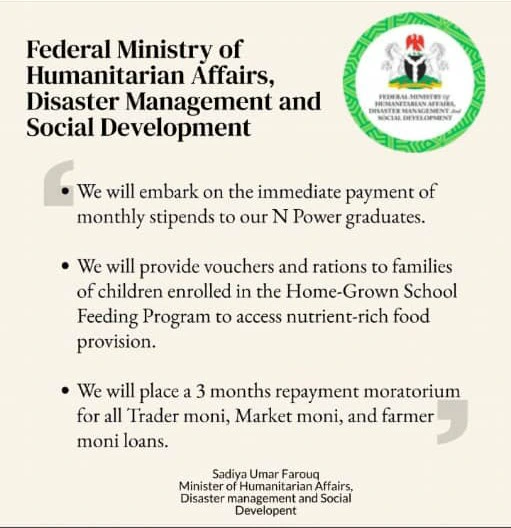 Keep following this page for more update on this and don't forget to forward to your friends even if you don't need it,help somebody.