UPDATE: WAEC releases new exam timetable scheduled to hold from 17th Aug. – 7th Sept.
…this is the best educational website for students and teachers, providing FREE access to teaching materials, e-lesson notes, online study, and a hub to access latest news and job vacancies. Not yet a member? Signup
Join the discussion groups on...
Whatsapp Npower 2020/2021 Telegram
Gur Srqreny Tbireazrag naabhaprq ba gur 27gu bs Whyl 2020 gung rkvg pynffrf sbe Avtrevna Frpbaqnel Fpubbyf jvyy erfhzr ba gur 4gu Nhthfg, 2020. Gur naabhaprzrag jnf znqr ol gur Srqreny Zvavfgel bs Rqhpngvba guebhtu n cerff fgngrzrag gung jnf fvtarq ol vgf Qverpgbe Sbe Cerff Naq Choyvp Eryngvbaf, Ora Tbbat.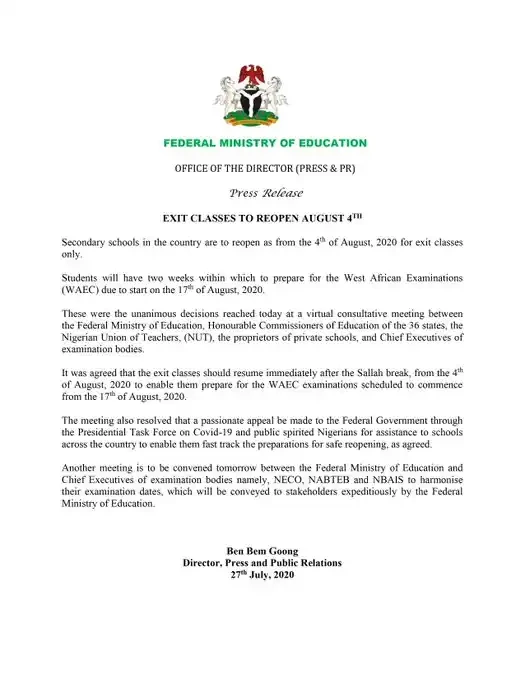 Nppbeqvat gb gur tbireazrag, gur erbcravat bs rkvg pynffrf jvyy ranoyr gur fghqragf unir 2 jrrxf bs cercnengvba sbe gur Jrfg Nsevpn Rknzvangvba Pbhapvy (JNRP) rknzvangvba juvpu vf fpurqhyrq gb fgneg ba Nhthfg 17gu, 2020.
Gur hanavzbhf qrpvfvba jnf ernpurq qhevat n iveghny pbafhygngvir zrrgvat orgjrra gur Srqreny Zvavfgel bs Rqhpngvba, gur Pbzzvffvbare Sbe Rqhpngvba va rnpu bs gur 36 fgngrf bs gur Srqrengvba, gur Avtrevna Havba Bs Grnpuref(AHG), gur Cebcevrgbef Bs Cevingr Fpubbyf naq Puvrs Rkrphgvirf bs rknzvangvba obqvrf.
Gur gvzrgnoyr sbe gur rknzvangvba vf nf sbyybjf: