Protest: N-Power Letter to National Assembly (NASS) Received Approval
For three months now, eighty thousand (80,000) Npower volunteers have not been paid their stipends. In respect to the unpaid three months stipends the Npower forum have concluded to carry out a nationwide peaceful mega protest across Nigeria, this was contained in a letter released by the 36 states Npower Representatives Forum last week.
See letter below:
According to online report, the purported protest by the beneficiaries of the N-Power scheme took off in Abuja at NASS headquarters. This was contained in a Facebook post by a beneficiary named Gurji Becha Rex.
Meanwhile, the Npower beneficiaries have sent a letter to the senate president of the Federal Republic of Nigeria Senator Ahmed Lawan. The letter which contains four paragraphs read as follows:
Dear sir,
NONPAYMENT OF NPOWER 3 MONTHS STIPENDS BY THE HONORABLE MINISTER OF HUMANITARIAN AFFAIRS.
I write to draw your attention to and lodge a complaint about nonpayment of Npower beneficiaries stipends for three months (March, April and May), by the Honorable Minister of Humanitarian Affairs and Disaster Management Hajiya Umar Sadiya Farouq.
This nonpayment of 3-months stipends, affects over eighty thousand Npower beneficiaries nationwide, both batch A and batch B. We the affected beneficiaries haven't been able to meet up with our daily needs due to the nonpayment of the 3-months stipends. The Covid-19 pandemic and the lockdown have worsen our living standards. We are extremely hungry.
We have exhausted all available means to reach out to the minister on this, yet nothing shows. We kindly plead to you, to use your office as the senate president and compel the Minister to pay our three months unpaid stipends, as the nonpayment has colossally affected our livelihood.
We will be extremely glad sir, if you compel the Minister to pay our unpaid three months stipends.
Thanks
Yours faithfully
AREMU RIDWAN OLALEKAN
Spokesman unpaid Npower beneficiaries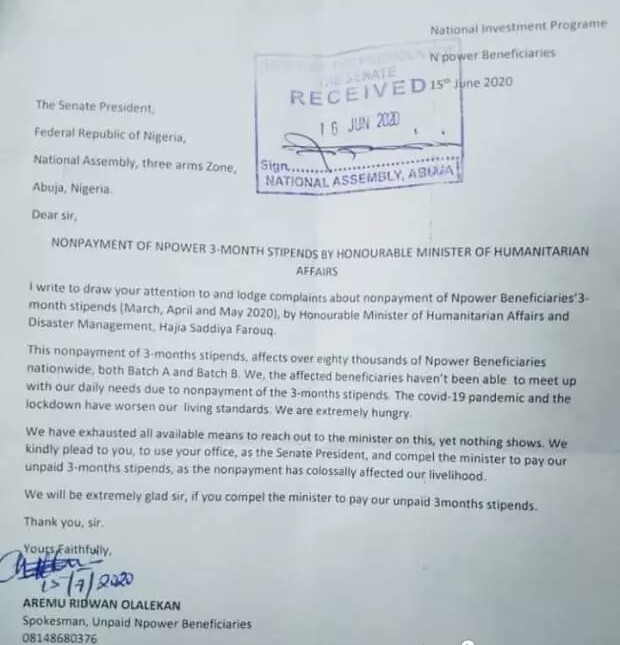 As you can see from the screenshot above the letter has been received and approved by the senate president Federal Republic of Nigeria, Senator Ahmed Lawan.
Congratulations to all Npower Volunteers both affected and not affected. Injury to one is injury to all. United we stand divided we fall.