Npower Recruitment: Eligibility, Requirements, and Procedure for Successful Registration
The Federal government of Nigeria, under the leadership of President Muhammadu Buhari, initiated the N-power recruitment program in order to alleviate poverty and to empower both graduate and undergraduate Nigerian youth that are unemployed.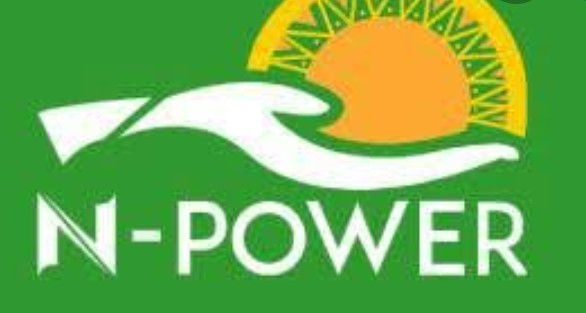 On 26th June, 2020, N-power posted on its twitter handle that a new application process has started with opening of portal at about 11:45pm to commence the Batch C recruitment exercise.
A lot of people have attempted registering for the program, but ended up being disqualified as a result of providing wrong information and using wrong procedure. This article is meant to guide prospective applicants who are interested in the program, in order to successfully register for the recruitment.
Who is Eligible for N-power Recruitment?
AGE: To kick start your registration, eligibility is the first thing you should consider to be successfully registered. According to N-Power, applicants who are between the ages of 18-35yrs are eligible for the empowerment program. So if you're not in this age bracket kindly wait for another year.
BE A NIGERIAN: Applicants must be of Nigerian descent and have document to proof their status.
FORMAL EDUCATION: The minimum requirement for categories in the Npower program is the Secondary School Certificate. Though, some other categories requires a Bachelor's degree to be considered eligible.
What are the Requirements for N-Power Recruitment?
Getting all the requirements below ready, makes your registration very easy. Here are some of the important requirement needed for registration.
1. A printout containing accurate details of your Bank Verification Number (BVN). 
2. Ensure data on your BVN match with other document you will be providing to avoid being disqualified. Also ensure all your registration is done on this site: www.npower.fmhds.gov.ng to avoid giving out your data to fraudster on the internet.
3.A recent passport photograph (1MB) either in a JPEG or PNG files.
4.Also provide a current contact, either an Email address or a working phone number. This will help N-power to send you notice once your registration is successfully completed and keep you updated with information.
5.Your Degree Certificate, NYSC certificate, and valid means of identification is required, if you have graduated and intend to apply for N-Teach or N-Health.
How do I register for N-Power Recruitment Program?
To register for N-Power program, visit www.npower.fmhds.gov.ng. Once you're on this site, read the terms and conditions for the N-Power program carefully and accept that the information you provide is correct and accurate.
1.Enter a valid Email Address with password and click on register. Once you are done, the information will redirect you to your email address for confirmation.
2.Once your email address has been confirmed, fill in your 11 digit BVN and date of birth. Note that your date of birth must correspond with the one in your BVN, if not you can't proceed.
3.Proceed to fill in your surname, first name, and middle name, to match with the one on your BVN in the BioData and Contact Page.
4.Indicate if you have received education or not. Note that the N-Teach and N-Health sub-programmes is only open to graduates with certificates.
5.You will be required to answer some questions and upload your government issued identity card. At least a national ID Card issued by NIMC is accepted.
6.Once you are done, review all your data and information you have provided and then click on submit. After submission, you will be sent a unique ID number. Please keep it safe for future.
If you have successfully completed the steps above, then congratulations you are now qualified for the empowerment program.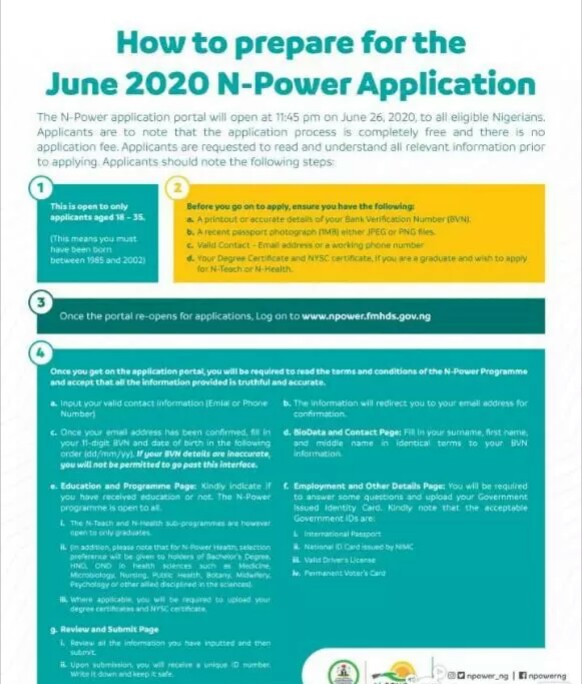 Note: Registration for N-Power is absolutely free. For effective registration, ensure you have a good internet connection and a working email address.
For update like this on Npower and other government social intervention programs kindly join the Npower 2020/2021 WhatsApp Group here for the news and events as it breaks.