NPOWER: Reactions Trail Beneficiary's Request To "Settle Batch B With Permanency & Suspend Batch A"
We are in the middle of May and Npower Beneficiaries are yet to receive their April Stipend. Some are yet to get their March Stipend. But the Minister of Humanitarian affairs has promised that all Npower Beneficiaries are going to receive their Stipend next week.
As all Npower Beneficiaries are expecting their April Stipend next week. Npower posted on Twitter this morning to keep Npower volunteer engaged on social media.
A batch B Beneficiary replied Npower that, the Population of Beneficiaries maybe too much to handle. He suggested that Npower should settle only that batch B and Suspend batch A
He wrote:
"If our population is bigger than what you can handle i will suggest you settle the batch B and suspend batch A. We'll understand you're working towards our permanency because you must give us permanent job if you don't want civil war."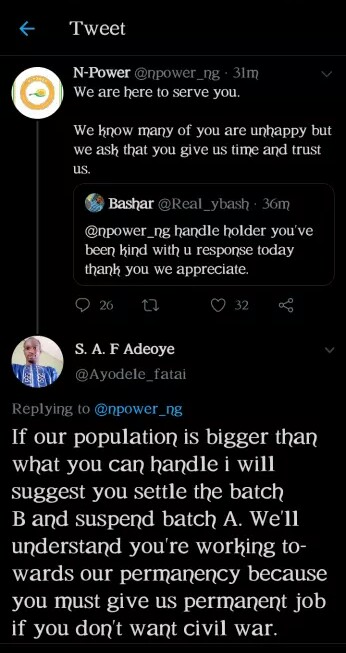 See the reply of the Npower to his tweets.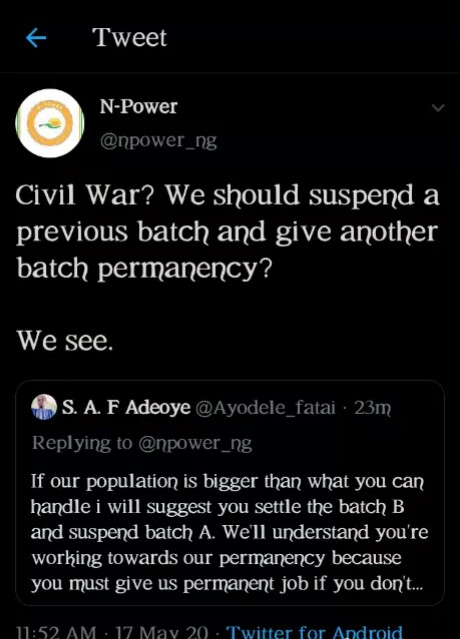 Many Npower Beneficiaries especially from batch A react to his tweet
See some of the replies
👉I will enjoy you to be mindful of what you said. Don't abuse the privilege, Npower is a volunteer paid program. With permanency or not at this age, thinking of civil war shouldn't be among your thoughts. We have an invisible war we are fighting already. Stay safe!
👉But the minister clear the air on Friday that payment will commence tommorow. Is there any changes to that?
What are your thoughts towards this post? Please comment below.