NPower Exit: Batch A & B Sends Letter To Presidency, Begins Nationwide Protest Next Week
The Npower beneficiaries seem not happy with the decision of the Federal Government to disengage them amid nationwide economic downturn and hardship as they have shown their displeasure on different social media platforms.
Following the decision of the Federal Government to disengage five hundred thousand (500,000) N-Power Volunteers across Nigeria, the National Forum for Npower Volunteers has written letter to the office of the president.
The letter which was written by the National Npower Forum, in respect of the FG decision to sack the Npower volunteers across the federation has also received approval.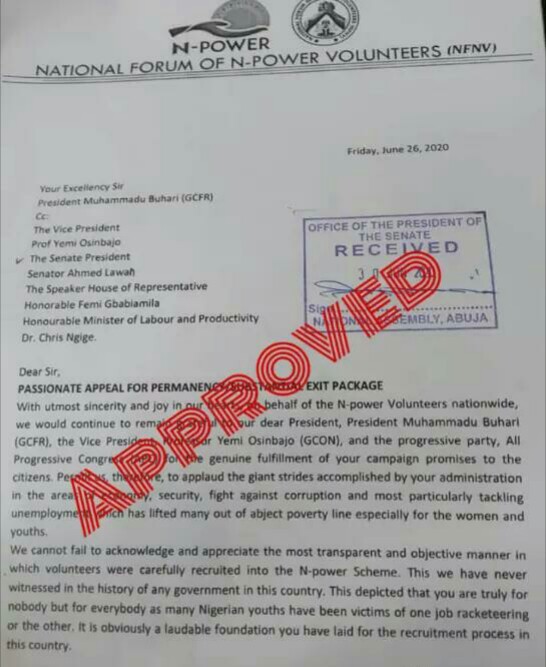 The N-power beneficiaries has threatened to embark on Nationwide protest if nothing is done in respect of the disengagement saga of the Npower volunteers.
Protest which is scheduled to take place next week, will start from Abuja the country Federal Capital Territory then later spread to other states or as the case may be.
This information was confirmed in a Facebook post by Npower Lagos state Facebook page yesterday.
See post below;
The letter which was addressed to the office of his excellency president Muhammadu Buhari, passes through the the offices of the Vice-President Professor Yemi Osinbanjo, the office of the senate president, Senator Ahmad Lawan, the speaker house of Representatives Hon Femi Gbajabiamila, the office of the honorable minister of Labour and Productivity Dr Chris Ngige.
Now the Npower Forum is awaiting feedback from the FG, otherwise there will be massive mega protest in Abuja next week.
They argued that it is really unfair for the FG to disengage five hundred thousand (500,000) Nigerian youths amid Nationwide economic downturn and hardship without any sustainable exit package.
The beneficiaries are of the view that if five hundred thousand Nigerian youths are laid-off without viable or sustainable exit package, then the FG has not achieved its goals for lifting 100 million Nigerians from poverty.
For more update like this on Npower and other government social intervention programs, kindly join the Npower 2020/2021 WhatsApp Group here for updates.