N-Power: Independent Monitors Make Demand Known To Buhari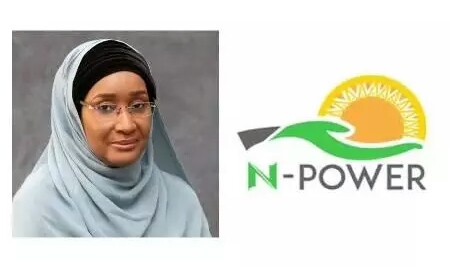 As the Federal Government keep on with the N-Power scheme, independent monitors of Nigeria's National Social Investment Programmes (NSIPs) have called on President Muhammadu Buhari to sack Sadiya Farouq, the Minister of Humanitarian Affairs, Disaster Management and Social Development.
AllNews reports that the monitors made the demand recently while expressing their grievances following the non-payment of their accumulated monthly stipends.
The independent monitors supervise various programmes of government under the SIPs including N-Power, Home Grown School Feeding, Tradermoni, Marketmoni and the Conditional Cash Transfer in the 36 states of the country.
Some of them disclosed that despite pleas and letters to the minister, she had refused to offset their March and April stipends while that of May had also not been paid.
Titus Omotayo, one of the monitors, disclosed that the NSIP was his full-time job as a graduate and that he had been having difficulties sustaining since his stipend stopped coming regularly.
Omotayo said he and other monitors had been performing their responsibilities, yet "70 per cent have not been paid their accumulated stipend by the ministry of Humanitarian Affairs".
Another monitor, Godwin Lerve, said the team members had been in the dark regarding their payment and had resolved on calling out the minister over her refusal to pay their stipends.
He said, "A lot of us have not been paid and that is why they are calling for her removal or redeployment from that office," Lerve said, according to Sahara Reporters.
"I heard that she is planning to streamline the programme probably to remove some persons from payment and I feel this is not the best."
Abiodun Ogunleye, another monitor, said they had appealed to the minister several times for the prompt payment of their stipend but she had failed to heed their appeals.
"We are left with no other choice than to passionately appeal to the President to send Mrs Sadiya Umar Farouq back to where he picked her from before she ruins the scheme."
Salisu Na'inna Danbatta, the special adviser on media to Hajia Farouq is utterly unyielding in attitude in spite of sack calls of her principal.
However, an official of the ministry revealed that the complaints of the Independent Monitors were already being addressed.
Issues concerning payment of stipend for not just the independent monitors, but also N-Power beneficiaries began after the Social Investment Programme was moved outside the office of Vice President, Yemi Osinbajo, by President Buhari last October to the Ministry of Humanitarian Affairs, Disaster Management and Social Development.
The monitors, who threatened to team up with N-Power beneficiaries to stage a protest if their outstanding stipends are not paid on time, also warned Hajia Farouq to jettison the idea of disengaging them, saying: "our engagement contract spelt out some clauses".