Nigerian Army recruitment exercise 2020/2021 begins | Nigerians reacts
The recent unemployment data in Nigeria is alarming, especially at this time when Covid-19 pandemic has rendered many jobless, homeless and some hopeless. See latest unemployment data as releaed by the National Bureau of Statistics (NBS) and shared by Nairametrics Research below: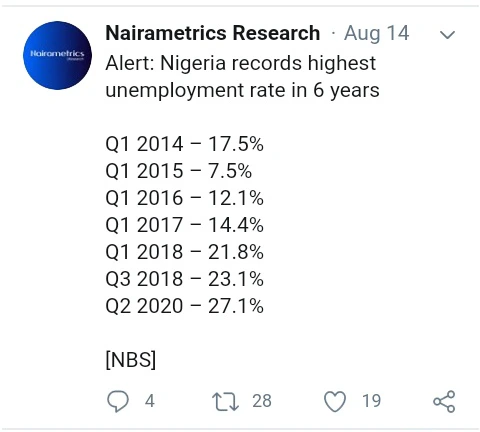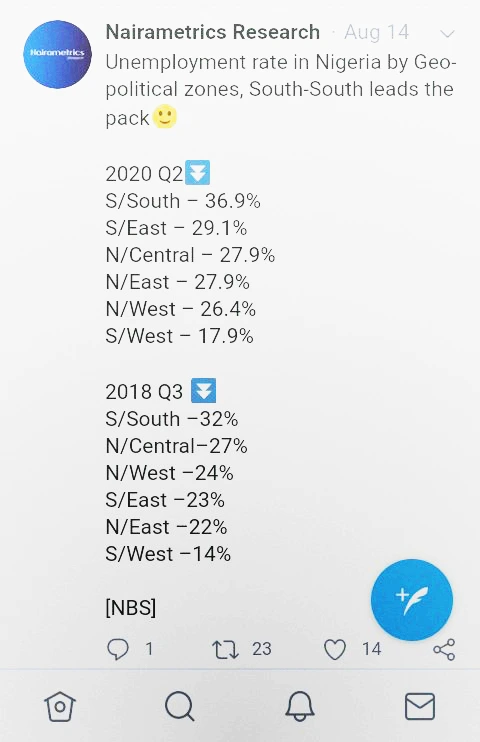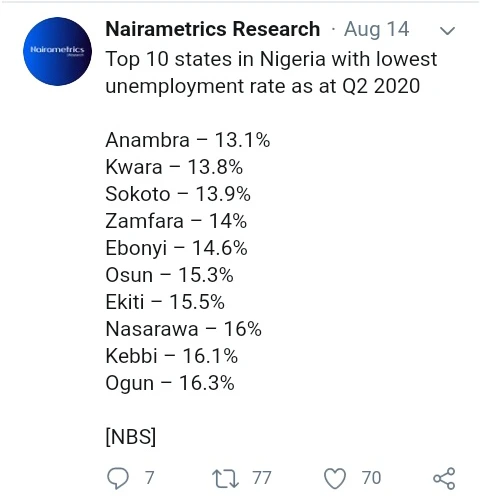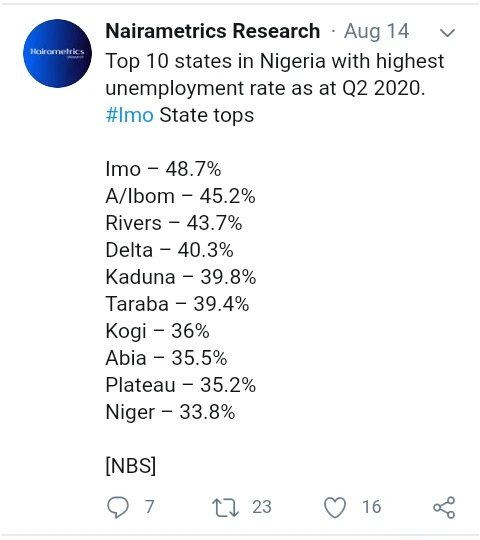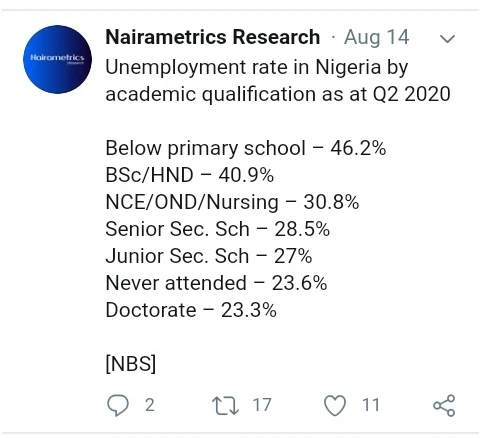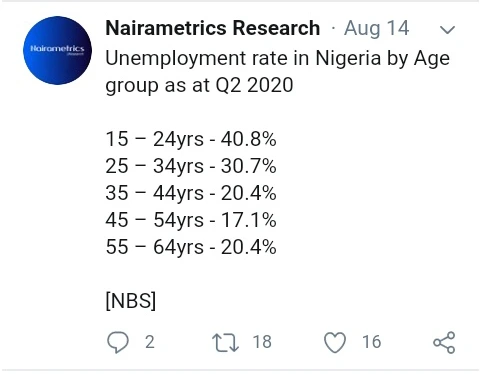 While the government have been working tirelessly through different policies like Npower, Tradermoni and a couple of other pragrammes from its agencies and parastatals to stem the tide; many expect more from the government because that was actually a major campaign promise disseminated vehemently by the government of the day to the people before they got grip of power and if nothing is done accordingly, it might escalate to something worse than insurgency.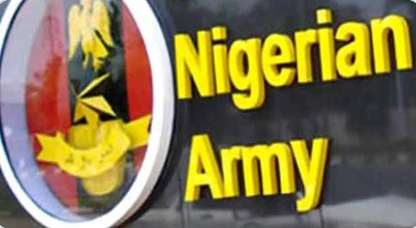 In this regard, the Nigerian Army, which is under the auspices of the Nigerian Ministry of Defence have announced their recruitment process through their official twitter account to the general public. The tweet reads: 
This is to inform the general public that the web portal for SSC47/2021 and DSSC26/2021 is now online and registration will commence immediately #OurMilitryIsCapable. 
See screen shot below: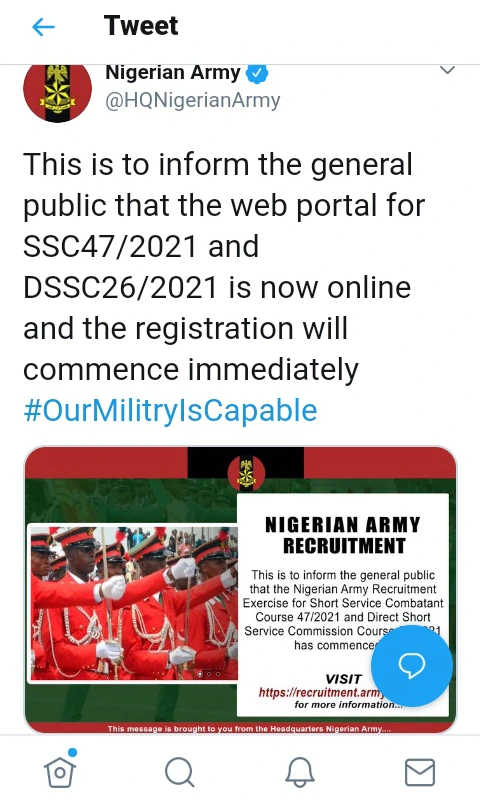 Channels Television then tweeted:
ICYMI: How To Apply for apply As Nigerian Army Begins 2020 Recruitment…
See screenshot below: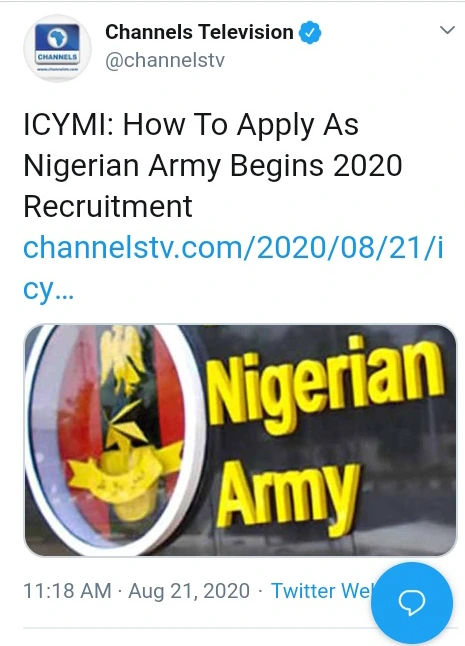 As usual, many Nigerians have reacted to this latest development coming from the Nigerian Army. A Twitter user is of the opinion that the Nigerian Army should please keep their job.
She wrote;
Nigerian Army pls keep your job, we don't want more of our brothers and sisters to lose their live in this course of National madness and power tussle". 
See tweet below: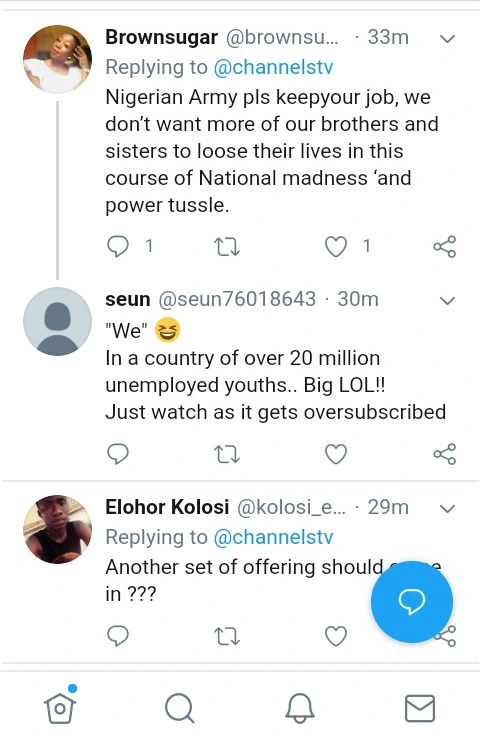 The truth is that if the Nigerian Army "keeps the job" as the user pointed out, who would then protect the territorial integrity of the Nigerian entity? How will the younger ones contribute to the security of Nigerian lives and properties? And what will become of those whose dreams aspirations are to be service men and women? These questions and many more are begging for answers.
See more reactions below: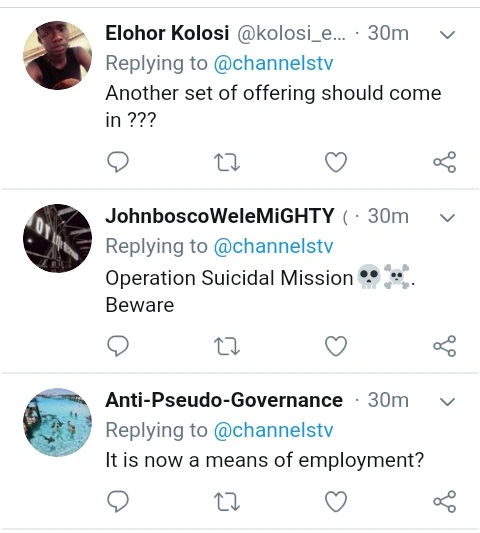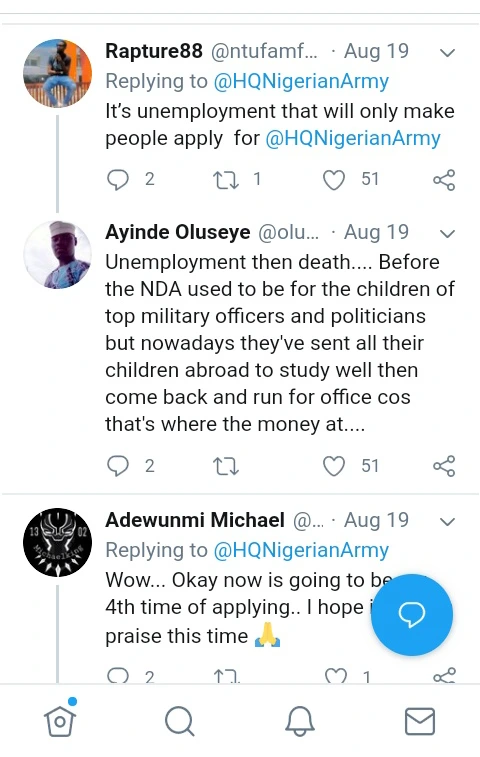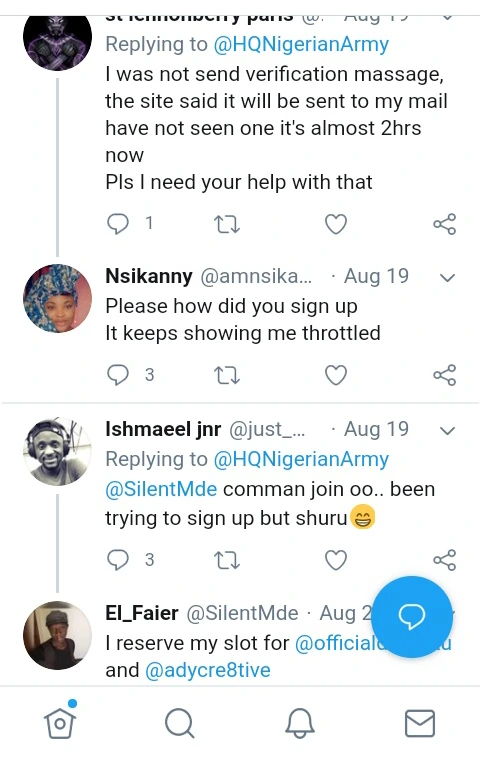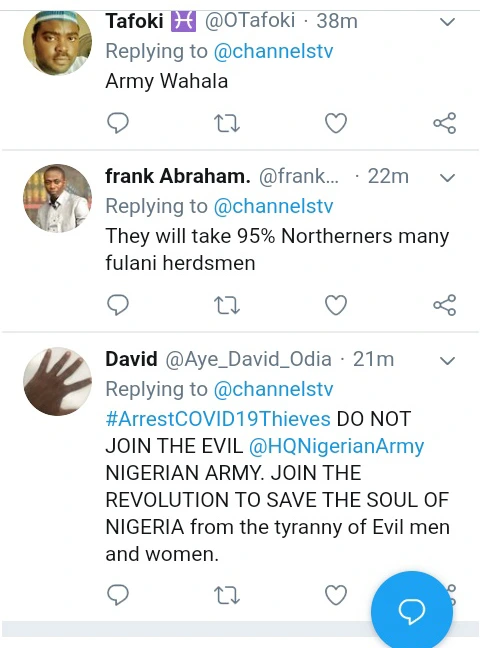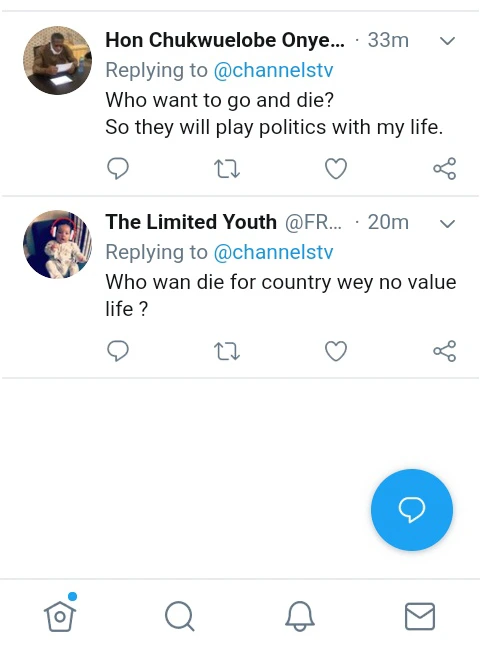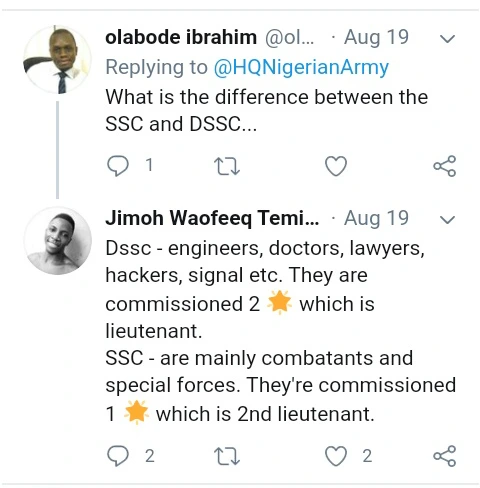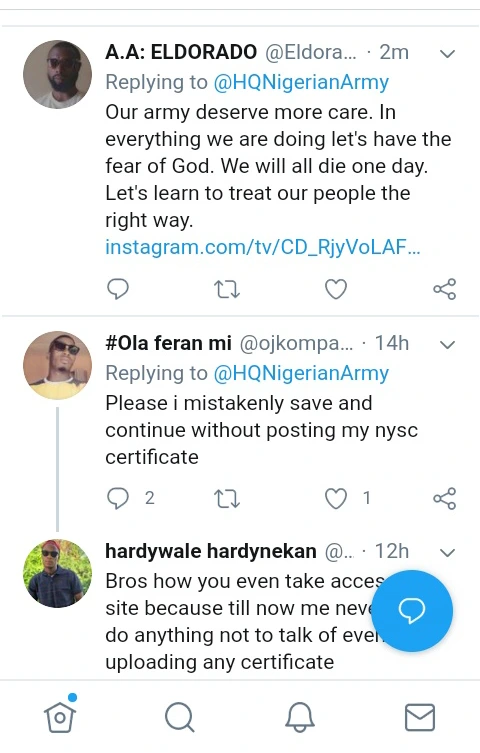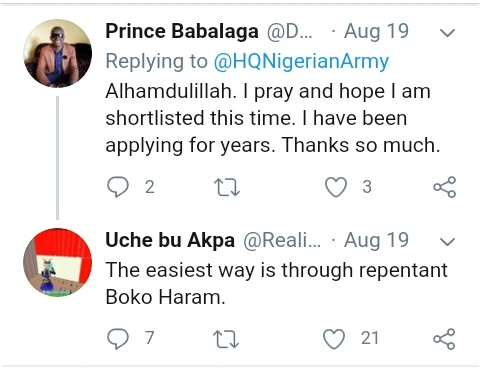 However, one would have thought that many qualified Nigerians would jump into it like the Biblical David a young shepherd boy who indeed saw an opportunity to enlist into the Army during his time and embraced it without thinking twice; he fought Goliath the enemy, prevailed and help rid his nation of the ridicule posed at them. Rather, reversed is the case at this dispensation. It is mostly predicated on the saying (in pidgin for better emphasis) that, "Nobody wan die but they wan go heaven". This in a lay man language means that many are not willing to do whatever it is that will take them to the good life but want that good life. Could this be possible? If yes or no, please let me know in the comment session.
A glorious opportunity stares at every abled bodied men and women alike to come out like David and have a shot at this rare call-to-action and stand against our collective enemy- unemployment and insecurity because victory surely awaits us at the end. And when you look back at the things you did that brought glory and honour to GOD and the nation, you will be proud you did the right thing and not the reverse.
If you are passionate about serving Nigeria in your own little way and are interested in joining the Nigerian Army, I encourage you to apply.
See screenshot showing the requirements and how to apply below: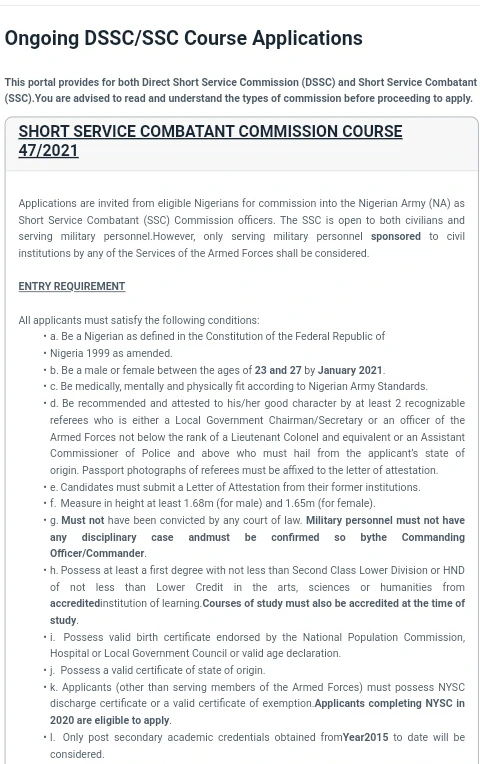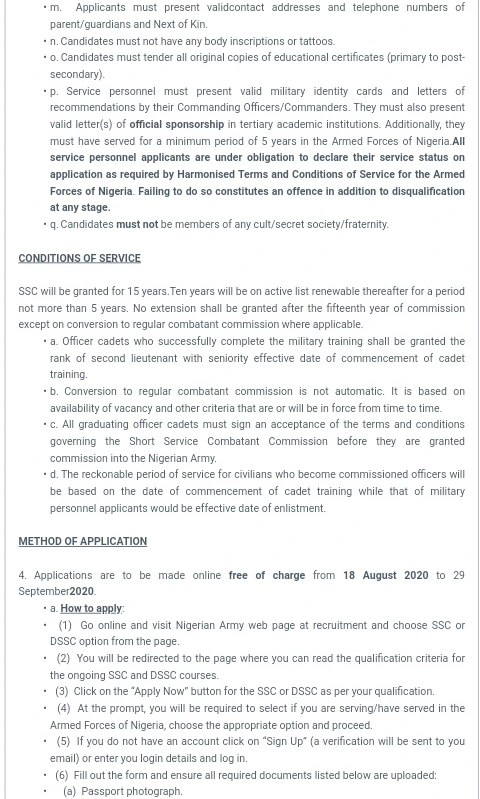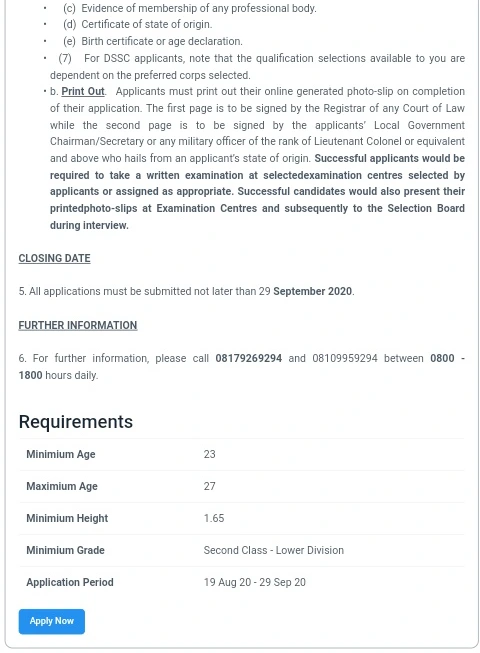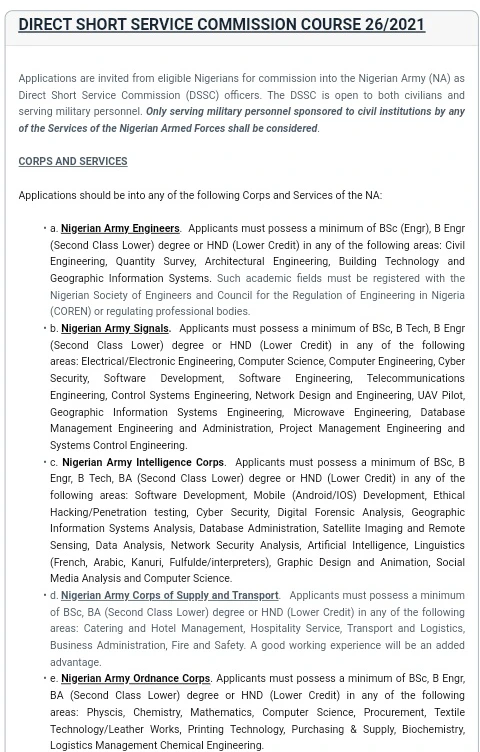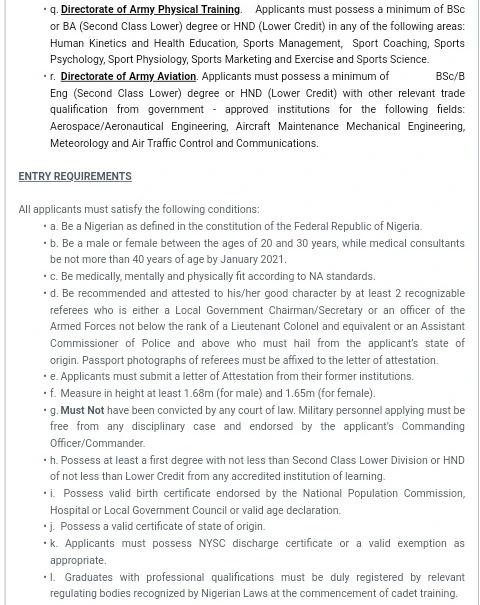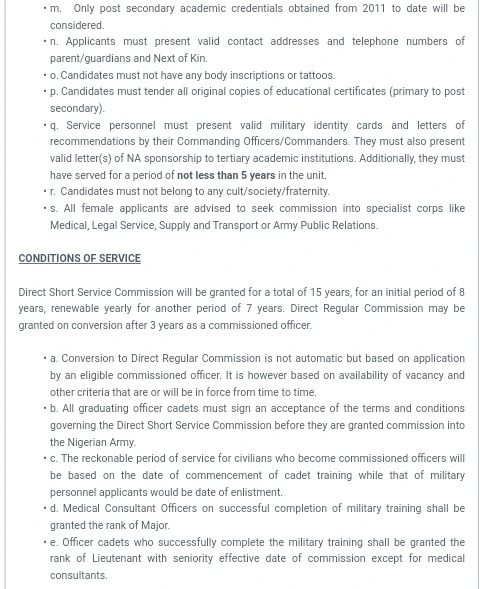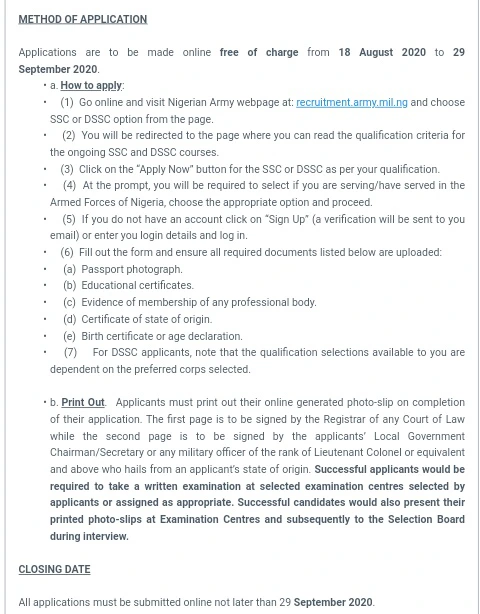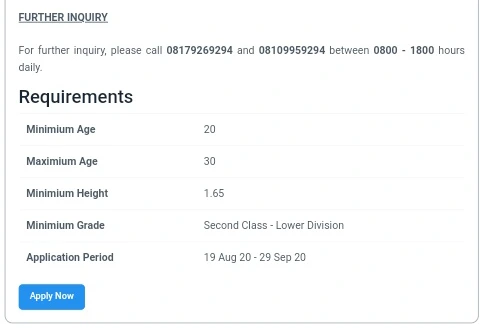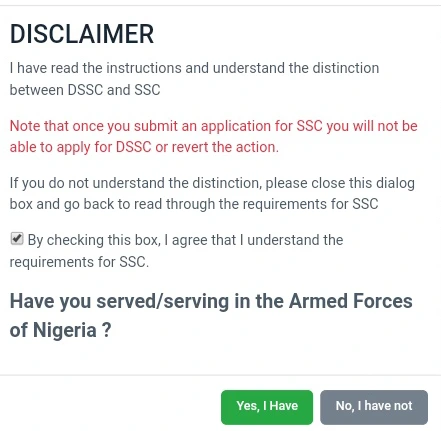 Please be aware that the application period is between 19th August, 2020 to 29th September, 2020. The official application portal is: recruitment.army.mil.ng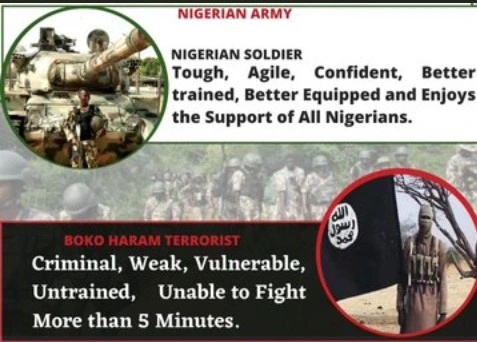 Most importantly, those who eventually get the job should not see the Nigerian Army as an escape route from unemployment, but a platform to contribute immensely to protect and secure the good people of the land.
Thanks for reading.