N-Power: 'Permanency' Begins for Beneficiaries from State Governments
Cross River State State Universal Basic Education Board (SUBEB) has employed seventy-six (76) N-Power beneficiaries we understands.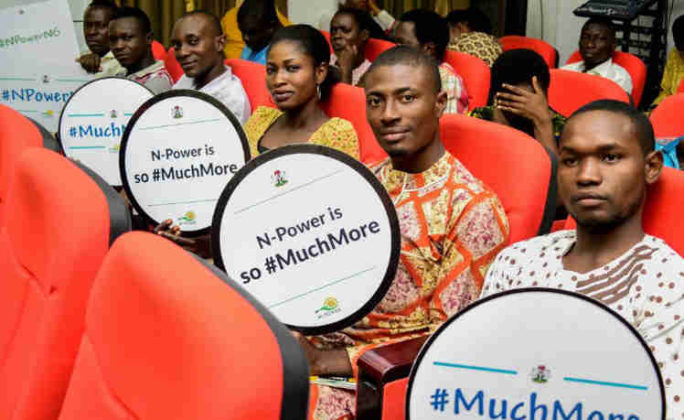 The official account of the Job Creation and Empowerment Initiative of the Social Investment Programme of the Nigerian Government made this known in a Twitter post on Monday.
It has come to our notice that Cross River State SUBEB has employed 76 N-Power beneficiaries.

Good job Cross River State and Congratulations to the beneficiaries. pic.twitter.com/OIeYyS9302

— N-Power (@npower_ng) November 11, 2019
In 2018, when the two-year period of the engagement of N-Power volunteers was coming to an end, there was a report that 2016 beneficiaries of the scheme will storm the Nigerian National Assembly with a bill seeking permanency into regular civil service.
However, the Federal Government of Nigeria asked the pioneer beneficiaries to continue working while they earn, even as they were not told details of the enhanced N-Power scheme.
According to Afolabi Imoukhuede, the senior special assistant to president Muhammadu Buhari on job creation and youth employment in December 2017, the extension, ultimately, is in the best interest of the beneficiaries.
"The purpose for which we designed the programme was to enhance their transition and since those for whom we designed it still have issues, we need to tidy up all loose ends which is what the enhancement intends to achieve," he said on OSRC TV in Akure, Ondo State.
Checks by this online news medium reveal that the 9th National Assembly are not deliberating on any 'N-Power Permanency Bill'.
While existing beneficiaries volunteers occupy the social media to continuously raise arguments on the need to grant them permanent status in the civil service, Concise News cannot independently verify if there is any ongoing legislative support towards the actualization of permanency for either or both of the 2016 and 2017 beneficiaries.
Nonetheless, states are permitted to absorb beneficiaries – like Cross River has done.
For more update like this, kindly join the Npower 2020/2021 WhatsApp Group here for Npower news and events as it breaks.