JUST IN: Buhari Young Farmers Network & NALDA Volunteer Programs Closed Until…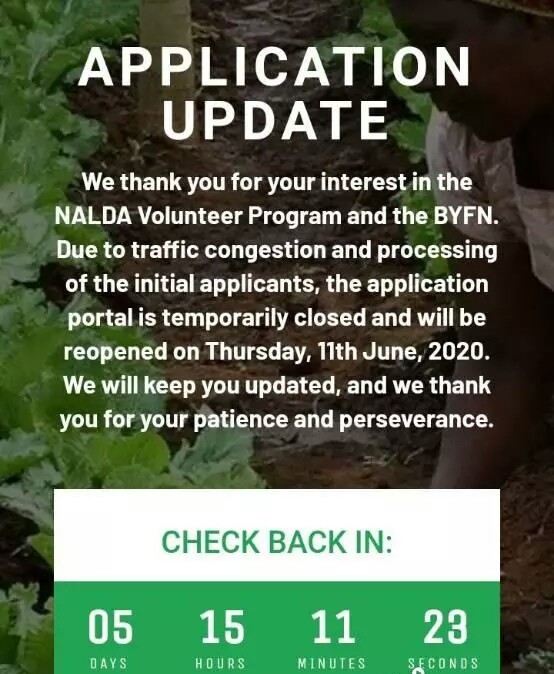 The Buhari Young Farmers Network(BYFN) and NALDA volunteer programme is a government initiative by the National Agricultural Land Development Authority(NALDA) which offers opportunities to able Nigerians to pilot agricultural projects or contribute through volunteering. The initative is recruiting 100 young Nigerians from every local government areas(LGA) in the country.
The application process is totally free through the official portal: https://nalda.ng/ and requires your proof of citizenship, school qualifications, phone number, email address, LGA, state of origin etc.
However due to traffic congestions, the portal is temporarily closed down until Thursday next week which is the 11th of June. The registration is open to applicants with a National Diploma(ND), Higher National Diploma(HND), as well as degree holders. The initiative will enable young Nigerians to be able to volunteer their skill in areas where it is needed as well as empower them to start agricultural projects through the Buhari Young Farmers Network. It is also a good initiative to curb youth restiveness as well as tackle unemployment in the country.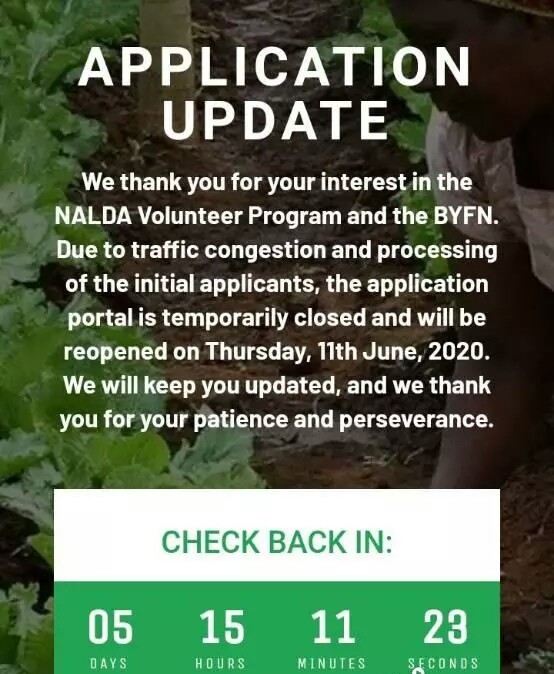 For more information visit the portal www.nalda.ng.
For more update like this on Npower, NALDA, Buhari Young Farmers Network and other government social intervention programs and schemes, kindly join the Npower 2020/2021 WhatsApp Group 
Thanks.