FG To Pay Ex-Corps Members Minimum Wage Arrears
What is minimum wage?
Minimum wage has been defined as the lowest salary that an employer is mandated by law to pay workers. This usually come, following negotiations between Labour Union and Federal government. Once the President sign minimum wage into law, employers who pay below the minimum wage can be sued to Court.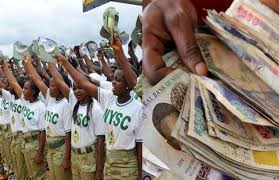 Will FG pay ex-Corps members minimum wage arrears?
Both ex-Corps members and serving Corps members will receive the new minimum wage arrears. However, those who will receive this arrears are those who were in service when minimum wage was signed into law.
That means minimum wage arrears will be paid to those who were in active service between April and December, 2019.
Following the announcement of the newly approved wage of 33,000 naira for corp members by the Director General of the National youth service Corp – Brigadier General Shuaibu Ibrahim, corp members are set for a wind fall in terms of arrears.
Corp members in 2019 Batch A will earn as much as 118,800 in areas covering the period between April and December of 2019. Also their colleagues in 2019 Batch B stream 1 with earn an estimated amount of 105,200 within the period of June and December while those in Batch B stream 2 will look forward to receiving the sum of 66,000.
Also corp members in 2018 Batch B streams 1 and 2, and Batch C streams 1 and 2 are expected to earn 26,400, 39,600 and 79,200, 92,400 respectively.