Breaking: Npower Allegedly Reviews Application Portal Opening By 24hrs
In what may appear as a last minute change, Npower may have decided to review opening date of its application portal for new volunteers by another 24hrs.
This was disclosed through a post on its official Facebook page, which reads:
In about 24 hours, all intending applicants can access the N-Power portal to apply for any of the sub-programmes.
Don't forget to read the poster on what you need to know before you apply. 
Apparently this event happened 12 midnight on the 25th of June, while everyone was expecting the portal to open in just 12hrs after, according to earlier schedule.
See screenshot below:
Below are the reaction of some applicant who have waited so long for the portal to open;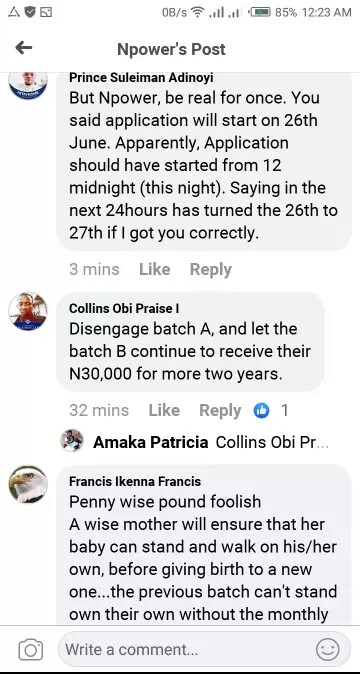 Npower also urge applicants to read every necessary messages concerning the application.
Note that a new portal has been provided for the exercise, so do not bother to access the old one. 
The new provided portal is: www.npower.fmhds.gov.ng
Stay tuned as we bring you more updates.