Oyo TESCOM Recruitment: Applicants Asked To Upload Credentials
The Oyo State Teaching Service Commission (TESCOM) has fixed Monday, 13th July to Saturday 18th July, 2020 for all applicants who obtained and submitted application forms in the on-going recruitment of Oyo State Post Primary Schools Teaching Service Commission (TESCOM) to upload the details of their credentials.
The announcement was contained in a memo signed by the Permanent Secretary of The Post Primary Schools Teaching Service Commission (TESCOM), Mrs. Grace Olabisi Oderinde.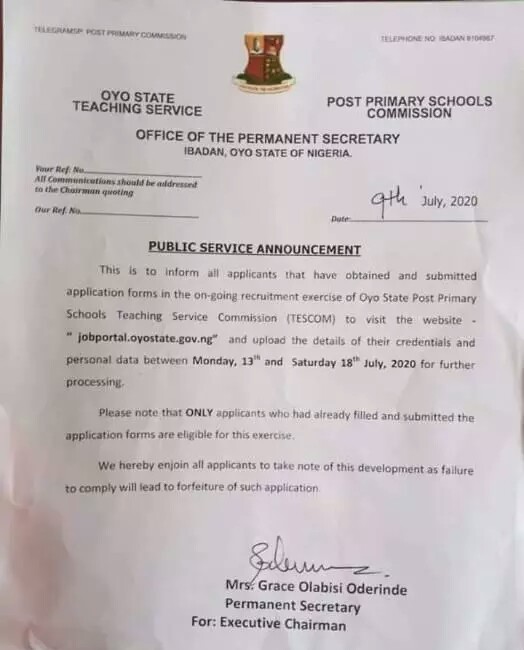 The TESCOM noted that uploading of credentials is meant for only those who had already filled and submitted application forms.
The uploading of the credentials will enable the TESCOM to process the application to the next stage.
This came hours after the Chairman of the TESCOM Pastor Akin Alamu announced that the Computer Based Test (CBT) for all applicants will hold not later than August this year.
Oyo State Government under the administration of Engineer Seyi Makinde started the recruitment of 10,000 teaching and non-teaching staff in February this year before COVID-19 pandemic forced them to put it on hold.
Pastor Alamu confirmed while speaking on a radio program in Ibadan this morning that they received over 120,000 application for the 10,000 jobs available.
The portal where applicants can log to upload their details is; jobportal.oyostate.gov.ng