Npower: NUT laments disengagement of the N-teach, appeals to government to absorb them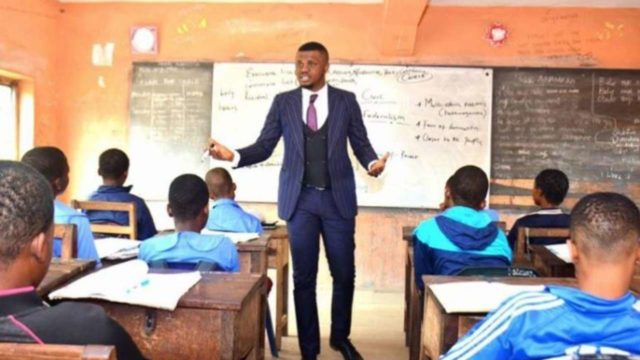 The Ogun State chapter of the Nigerian Union of Teachers (NUT), has lamented the disengagement of the N-power volunteer teachers by the Federal government.
The Chairman of NUT, Comrade Titilope Adebanjo who spoke with newsmen in office at the union's secretariat in Abeokuta, the State capital, insisted that the disengagement of the volunteers would be a major setback to the education sector.
Adebanjo also lamented the acute shortage of teachers in Ogun State, saying that even when the N-power teachers were engaged in active service, teachers were still inadequate in schools across the State.
He disclosed that, the last time teachers were recruited in the State was in 2009, before the administration of governor Dapo Abiodun began the recruitment of 1,500 primary school teachers in 2019.
It would be recalled that, Minister of Humanitarian Affairs, Disaster Management and Social Development, Sadiya Umar Farouq had announced the disengagement of 500,000 Batch A and B N-power beneficiaries by June 30 and July 31 respectively.
Farouq added that the Federal government had commenced the transitioning of the disengaged beneficiaries into entrepreneurship schemes.
But, Adebanjo said, the NUT was shocked with the disengagement of the volunteers, adding that the union did not expect the Federal government to disengage the volunteers but absorb them into public service.
Adebanjo stressed the need for regular recruitment of teachers by the government, saying;
We are not happy with the decision of the Federal government to get them disengaged. So, we want to appeal to Ogun State government to come to the aid of these our innocent youths and make sure they get them appointed into the service of the Ogun State government.
Adebanjo lamented that, the disengagement of the N-power volunteer teachers would have adverse effects on the academic progression of the students.
The NUT Chairman said,
Honestly, the news of the disengagement of the N-power volunteers got to us with a shock because we didn't expect any government, at this time to disengage that large number of beneficiaries.
If you see the type of work that these N-power volunteers are doing in our schools you will be amazed. Honestly, even our prayer to Ogun State government is to make sure that all of them are considered through this recruitment. They are working there and they are already with our students, seriously working as young teachers.
We are talking about work here and there is no way you will not recruit. We are saying that the last time that teachers were recruited in the state was in 2009. If they (teachers) are by that time 25 years of age plus another 10 – 11 years, they are becoming of old and we have these N-power teachers just coming in, they are fresh blood, they are working I cannot deceive you",
Adebanjo added.