National Adopted Village For Smart Agriculture (NAVSA) 2020 | Apply Now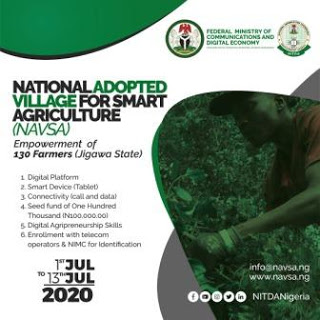 In line with President 's administration drive to lift 100m Nigerians out of poverty,, NITDA Nigeria under the supervision of the Federal Ministry of communication and digital economy Nigeria kick starts job and wealth creation programme by adopting 130 farmers on National Adopted Village for Smart Agriculture (NAVSA).
NAVSA Platform is aimed at digitalizing agriculture to drive Digital Economy, as part of the President 's agenda to leverage technology and innovation to revolutionize the agriculture value chain.
The target is to adopt farmers in 774 LGAs across the country, open the platform to all agriculture ecosystem players with access to information, facilitate and improve productivity, reduce the cost of production, and facilitate access to local and international markets.
It will also enhance the profits of farmers and the value chain players, support agriculture with technology, help them to build sustainable business models and digital business opportunities that will create not less than 6 million well-paying jobs in the next 10 years.
How to apply:
Interested Nigerians should visit: https://navsa.ng to apply.