FMARD: How to Switch ODK Collect App From One Device To Another
The Federal Ministry of Agriculture and Rural Development (FMARD) is a ministry of the Nigerian government that regulates agricultural research, agriculture and natural resources, forestry and veterinary research throughout Nigeria.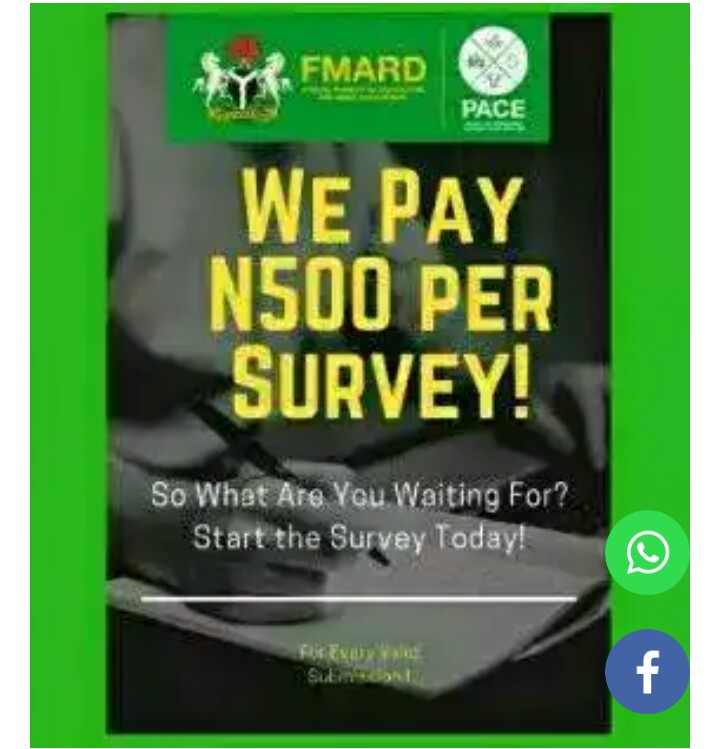 FMARD has the mandate to ensure food security in crop, livestock and fisheries, stimulate agricultural employment and services, promote the production and supply of raw materials to agro industries, provide markets for the products of the industrial sector, generate foreign exchange and aid rural socio-economic development.
The Agricultural for Food and Jobs Plan (AFJP) is joint project of the Federal Ministry of Agriculture and Rural Development (FMARD) and the Project for Agricultural Co-ordination and Planning (PACE) Secretariat, which aims to increase locally grown food supply, create employment opportunities in the agriculture sector and export food surplus using existing agreements.
Till early this month, FMARD PACE recruitment took place to employ many people among Npower beneficiaries who shown interest on thier online registration on contract basis to carry out Farmers' data survey with a pay of #500 per "valid survey" using their individual devices.
They instructed all the applicants to download ODK Collect App as the mobile sotfware needed for the said assignment in their various communities.
HOW TO SWITCH ODK COLLECT APP TO ANOTHER PHONE
In a situation where there is an urgent need to switch (or change) ODK Collect App from a former phone to another due to technical challenges or otherwise, kindly follow the simple steps below to do so. You can also follow the steps to change your device on the ODK App:
STEP 1
* Fill blank form.
STEP 2
* Go to Information Update Form.
STEP 3
* Input your BVN.
STEP 4
* Select Device change to switch your phone.
STEP 5
* Select reason for changing your phone or device.
STEP 6
* Certify your device change.
STEP 7
* Save the form for submission.
Congratulations to you dear Enumerator!