Finally Npower protest caught Senate attention as NASS intervenes in disengagement struggles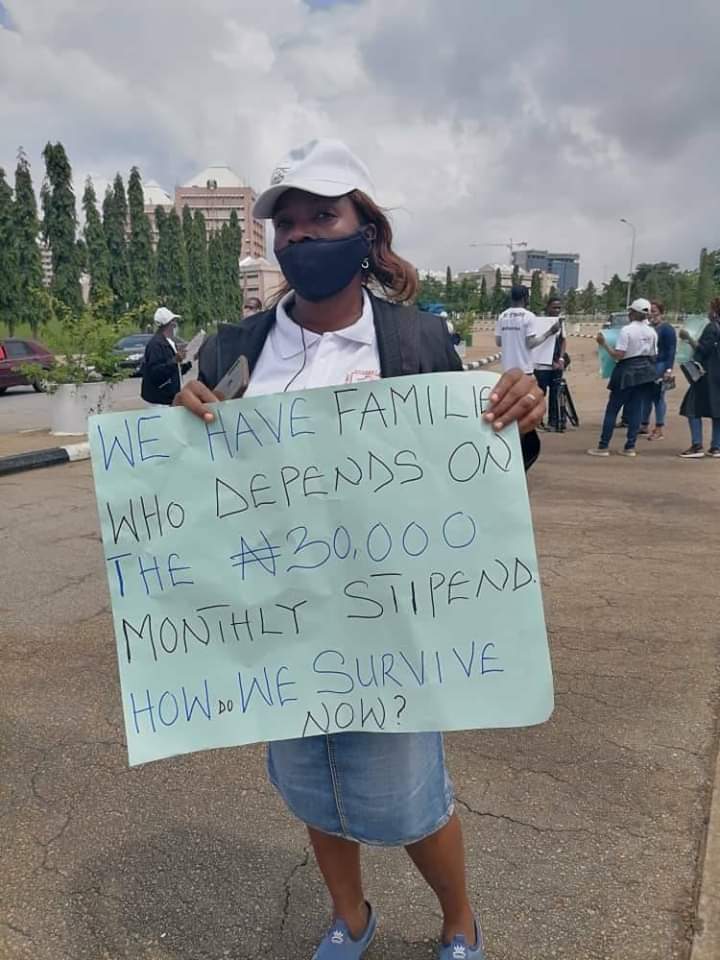 The senate President, Ahmed Ibrahim Lawan has on Thursday being 16th July 2020 intervened on behalf of Nigerian government in a peaceful protest staged by Npower beneficiaries over the news of disengagement by the minister in charge of Npower, Hajiya Sadiya Umar Farooq without "enhancement scheme" earlier promised.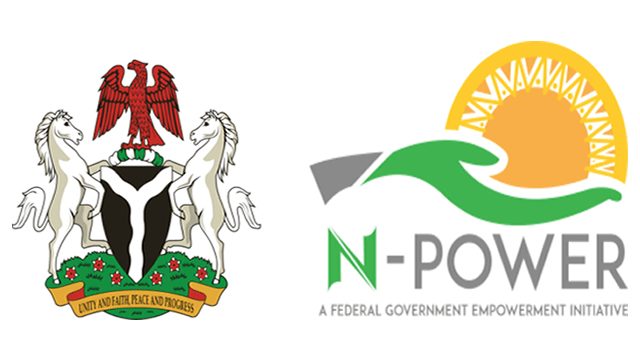 Beneficiaries who embarked on peaceful protest from eagle square to National Assembly in Abuja carried various placards with different inscriptions such as, "We Cannot Go Back To Streets To Start All Over", " We Have Families Who Depend On The N30,000 Monthly Stipend; How Do We Survive Now?", "Nigerian Graduates Are The Future Of Nigeria. Treat Them Better", " If You Can Pay Bokoharam, Militants N65,000 Monthly since 2012 uninterrupted, Why Can You Pay Law Abiding Nigerians N30,000 Monthly? ", " You Promised Us Enhancement Scheme Before 2019 Election, Why Do You Want To Do The Opposite ", " Don't Force Us To Cause Unrest" "Give Us Permanent Jobs", " Your Children Are In CBN, FIRS, & Other Juicy Offices But See Us Battling With Npower N30, 000?" "Nigeria Has More Than Enough Money To Pay Us" … among other placards too numerous to capture.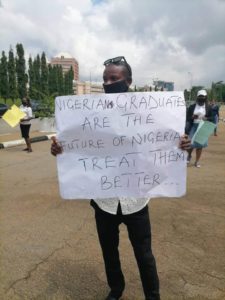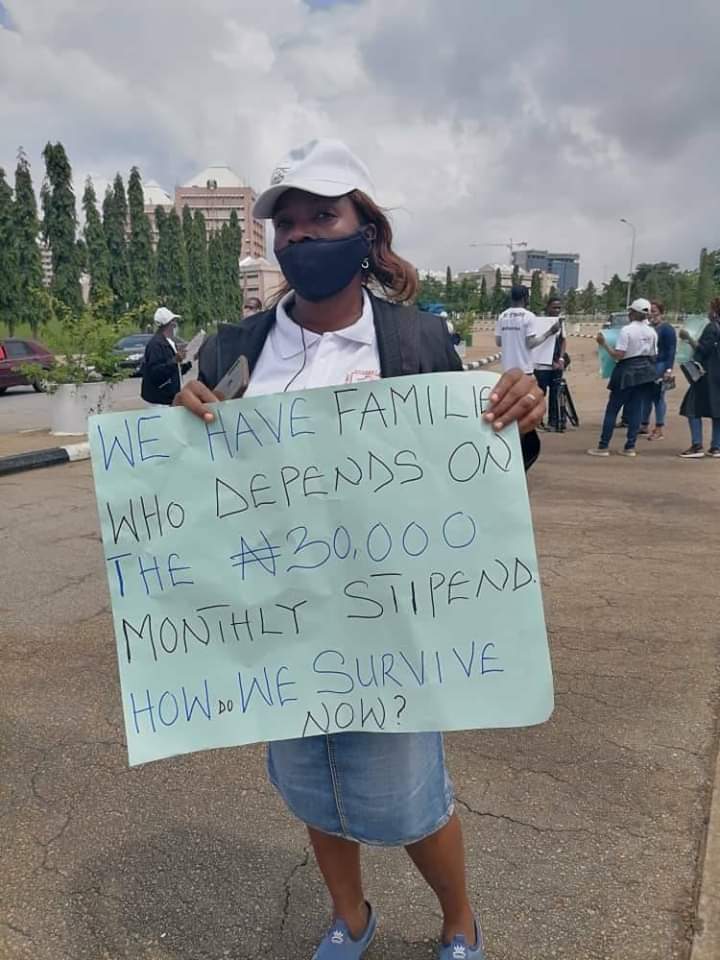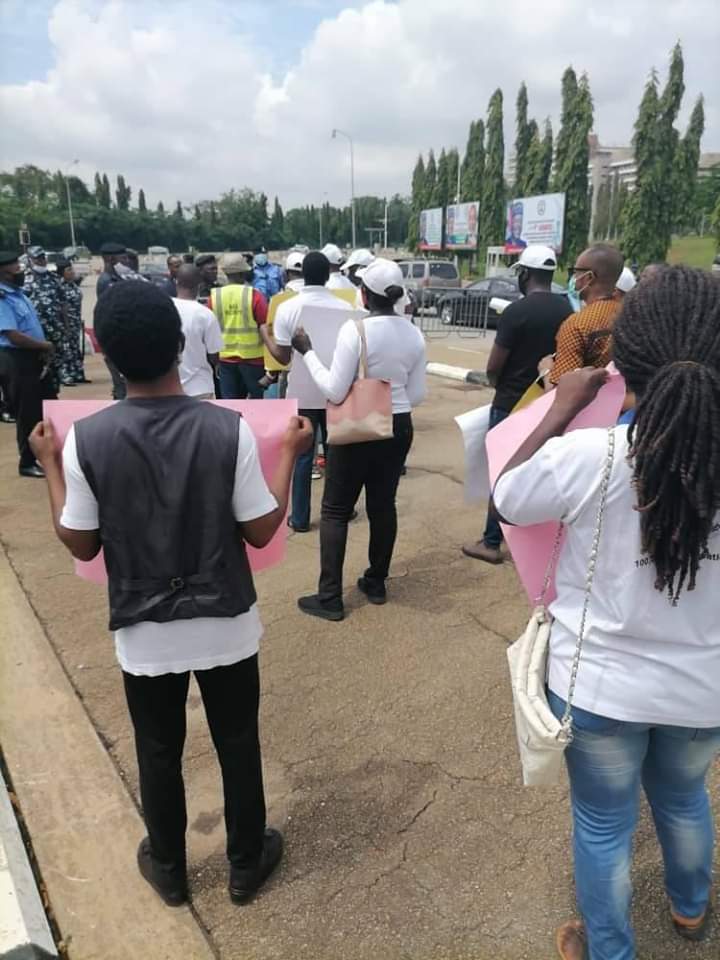 Reacting to the protesters, Senate President Ahmed Ibrahim Lawan, asked them to come back next week Thursday being 23rd July 2020 for table negotiation.
Speaking further, the senate President, Ahmed Ibrahim Lawan commended the protesters for maintaining the rules of "social distance" despite their anger stressing that necessary steps would be taken not to throw them back to the streets.
Earlier, the spokesperson of the protesters Mallam Muhammed A, thanked the senate Leader, Ahmed Ibrahim Lawan for giving them attention adding that though it is not a speech making day but all they want is permanent jobs as promised by the federal government from the beginning.
He emphasized that government plot to disengage them without "enhancement scheme " is a call for social evils such as stealing, kidnapping, and of course high rate of unemployment.
Muhammad told Senate President that the excuse flying around that batches A and B Npower beneficiaries have to be disengaged for batch C to come in is a plot by Enemies of Buhari's government to truncate his most adored "legacy" of addressing unemployment pointing that the coming of batch C has nothing to do with federal government' s earlier promised of permanency as he added that the programme can even be expanded to have upto batch A to Z.
While exchanging pleasantry with the Senate president and some of his colleagues, a meeting has been scheduled for negotiation come Thursday next week.
We will keep you posted as things unfolds.
For update on Npower and other government social intervention programs, kindly join the Npower 2020/2021 WhatsApp Group here for latest news and events as it breaks.