Covid-19 Palliative: How FG Disbursed Infested Rice To Oyo (Pic)
Few days after the Oyo State government received 1,800 bags of rice from the federal government, it rejected the rice saying they have gone bad and were not good for human consumption.
The federal government had ordered the Nigeria Customs Service to donate 1,800 bags of rice each to Oyo, Osun and Ekiti States, and 800 bags to Ondo State as part of the effort to cushion the effects of coronavirus on the four states.
Helen Ngozi, the comptroller of Customs, Oyo/Osun command, had on Monday handed over the bags of rice each to the governments of Oyo, Osun, Ondo and Ekiti.
Then the executive adviser on agribusiness to the Oyo governor, Debo Akande, said the government had rejected its own share of rice. Mr Akande, who made this announcement said inspections were done by the state's food security committee of the COVID-19 task force.
It was then discovered that the rice were infested by weevil and other pests, and took the decision in the interest of the health of residents of the state.
See photo below…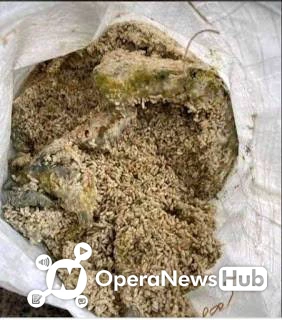 Mr Akande however assured residents of Oyo that the return of the 1,800 bags will not affect the state's distribution of aid, noting that the state had gathered enough rice for distribution to its citizens.