Breaking: Npower Reviews Engagement Rules, Reduces Volunteers' Tenure
The management of the Federal Government empowerment programme Npower has introduced some new rules into the programme as they opened portal for the registration of new set of Volunteers.
The portal: https://npower.fmhds.gov.ng/signup which was open around 12am on Saturday contains new duration for the beneficiaries of the federal government's programme. Under "programme" on the site, there are 4 main programmes which include 1. N-Agro 2. N-Teach 3. N- Health 4. N- Build, N-Tech and N- Creative
Under the new duration rule, N-Teach programme is now to last for only 12 Months which is 1 year, N-Health is also for 12 Months, while N- Tech, N- Build and N-Agro are now to last for only 6 Months.
See below: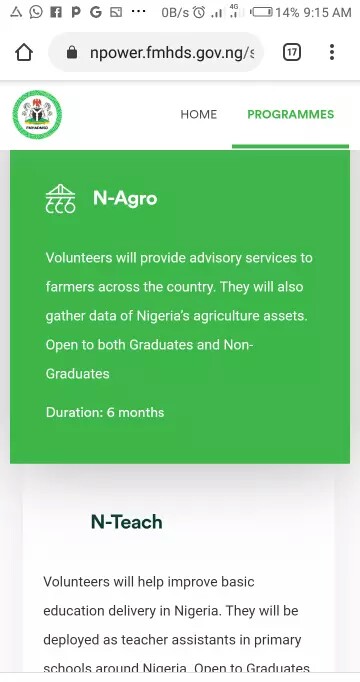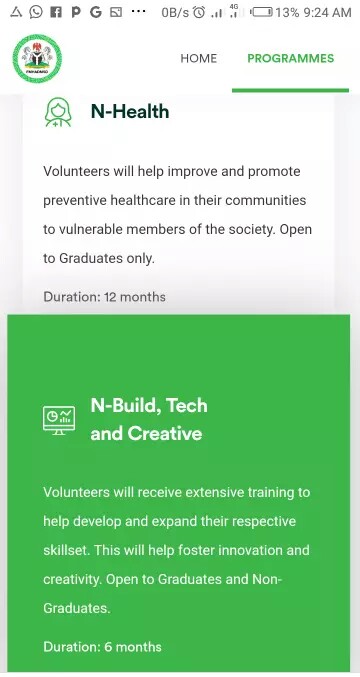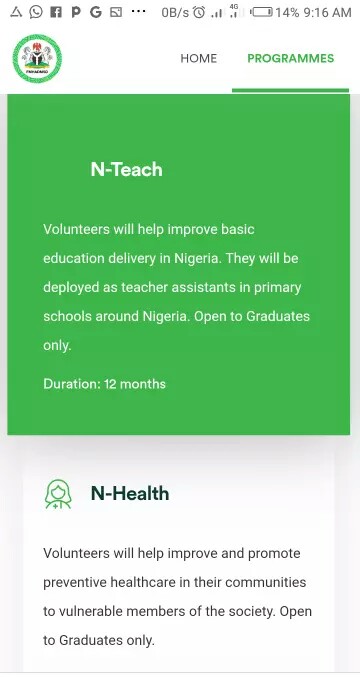 Recall that all the categories of programmes were initially designed to last for 24 months which was 2 years, but the Batch A which started in 2016 has spent more than 3 years already, while the batch B which started in August 2018 will clock 2 years this August.
It is not clear yet whether the stipends of the volunteers will also be reviewed, since the Minster in charge of the programme Farouq Sadiya has promised to review the entire programme. Now that the duration of the programme has been reviewed downward, it is likely for the stipends to be reviewed upward as well. This is because the #30,000 stipends was programmed during the era of #18,000 minimum wage stipulation in the country. It is believed that now as the minimum wage is also increased to #30,000, Npower stipends may witness its own increase, most especially since NYSC members are now enjoying increments in their monthly pay too.
For more update like this, kindly join the Npower 2020/2021 WhatsApp Group here for Npower news and events as it breaks.